Atlanta Garage Door Service
Nothing is more frustrating than trying to replace, install, or repair something you have no experience replacing, installing or repairing. At Legacy Garage Doors, we can easily eliminate any garage door needs you may have in a flash. Our experienced garage door technicians will gladly use their expertise and skill to make sure your garage door operates the way it's supposed to. All you have to do is give us a call.
Serving Atlanta and the surrounding areas, Legacy Garage Doors offers a full-range of overhead garage door services at very competitive prices. We specialize in both installation and repair of all models of overhead garage doors and garage door openers. With a large assortment of garage door options and styles, Legacy Garage Door will help you create the garage door look that best compliments your home and see that your garage door is in top-notch working order.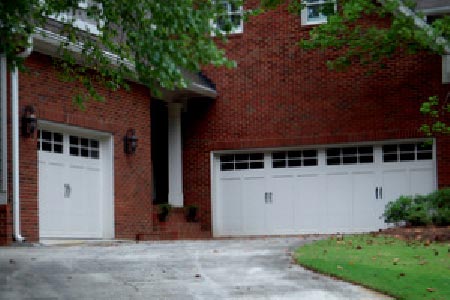 Atlanta Garage Door Repairs
We assist you in your garage door needs, including garage door repairs, from start to finish. Whether you are installing a first-time garage door, replacing an old, worn, or dated garage door, or repairing the garage door you already have, Legacy Garage Doors want to serve you. Our skilled garage door technicians are well-trained and offer superior garage door services.
At Legacy Garage Doors, we pride ourselves on providing our Atlanta customers with unsurpassed garage door assistance as well as outstanding customer service. Our friendly technicians are licensed and insured so you can relax knowing that a Legacy Garage Door installer or repairman is around your family and your property. Being in-house employees, not outside sub-contractors, you'll find our technicians to have a high standard of conduct and take pride in their workmanship.
So, contact our Atlanta Garage Door Service at Legacy Garage Doors the next time, and every time, you need overhead garage door installation or repair or garage door opener installation or repair. Our knowledgeable garage door specialists are ready to assist you.
Legacy Garage Doors is a locally owned and family operated business.
Our commitment to providing the community that we live in with excellence is unmatched in our industry. We understand that you want your garage door repaired quickly, you want to work with people you can trust and you want a fair price. Check out our testimonials and then give us a call to schedule your appointment!
Our Services
New Garage Doors
The garage door you choose for your home can substantially increase the value of your home. At our garage door installation company, we pride ourselves in the installation of quality garage doors.
Read More About New Garage Doors
Garage Door Openers
Our highly-skilled, licensed, and insured garage door opener experts install all makes of garage door openers. Our in-house, local garage door opener technicians are unsurpassed in installation success and customer satisfaction.
Read More About Garage Door Openers
Garage Door Service & Repair
With many years of service to Atlanta residential customers, our professional garage door service & repair technicians are familiar with all brands of garage doors and garage door openers. No garage door malfunction is too difficult for us to tackle.
Read More About Garage Door Service & Repair
Troubleshooting
These minor problems may be solved with a few practical adjustments on your part. However, before attempting the tasks outlined below, check your garage door thoroughly to see if any parts are obviously damaged.
Read More About Troubleshooting
Garage Door Service
Serving Atlanta and the surrounding areas, Legacy Garage Doors offers a full-range of overhead garage door services at very competitive prices.
Read More About Garage Door Service
Garage Door Spring Repairs
Our licensed garage door service technicians have the training and experience to safely repair and replace all types of garage door springs including torsion springs and extension springs.
Read More About Garage Door Spring Repairs
Client Reviews
Legacy Garage Doors
Legacy Garage Doors furnished and installed a new commercial door operator and receivers on 4 doors with remotes and a keypad for our warehouse. They did a very good job at a fair price and we were very pleased with their work. Would highly recommend them and would definitely use them again.
Pleebrown
I have used Legacy twice now. Once to fix our broken door and then a year later to install on new door completely on the other side of the garage. The service is fast, and pricing is competitive. Thanks for everything Legacy.
NatalieWill
I was in a bind yesterday. So one of the backyard tools found it's way to jam my door from opening. Which resulted in the door going out of place. After other analyzing, it turns out this task was not really a DIY job. Called Legacy and they came right out and got the job done in no time!
Jmallory78
Had 2 new steel doors and 2 new openers installed. During the initial meeting options were presented and clearly explained. Installation was very professional and doors were fully tested. On time and on budget. Couldn't be happier with the work. Five stars to Legacy!
Garage2
I am so glad I called Legacy Garage. They were awesome to work with and when the first company I called for repairs wanted $400 for my broken spring on my garage door, Legacy did the same job with a lifetime warranty for just under $200. I would highly recommend and if need be would certainly use them again as well.
JuneMar
These guys were really great. My door had issues shutting and they were able to get someone out the same day and repair the door at what i felt was reasonable cost. They also didn't try to create other issues with the door or suggest needless upgrades. Extremely easy to work with and trustworthy. I will use them again the future.
Lukebarber48
Contact Us
MAILING ADDRESS
P.O. Box 5303, Canton, GA 30114
HOURS
Monday – Friday
7:00am – 7:00pm
Saturday
8:00am – 4:00pm
Closed Sunday
for Worship